Working at Argus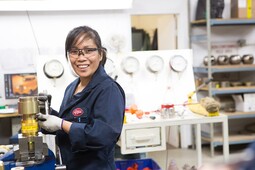 Argus is an employee-owned organization that embraces diversity and the benefits it brings. Innovation and progress are achieved through valuing the ideas of our people, two-way communication, and being open to change.
We're an equal opportunity employer looking for individuals who are inspired to work in our team to provide our customers with solutions.
We offer competitive wages and a comprehensive benefits package, consisting of:
| | |
| --- | --- |
| Health, Dental & Life Insurance | Company Matched RRSP |
| Short & Long Term Disability | Corporate Social Events |
| Comprehensive Safety Program | Recreation Centre Discounts |
| Generous Paid Time Off | Transit Discount for Employees |
Applicant Core Competencies
We have seven core competencies and skills that unite us.
We look for these talents in potential new team members:
Communication – We are proficient at using a wide range of communication styles by adapting to other's needs, and are effective in sharing ideas and thoughts.
Information Management – We use data to make better decisions, inform our choices, and continue to enhance our processes.
Initiative – We are proactive in finding new ideas and solutions, identifying possible obstacles, and working to improve or resolve them.
Organization – We are able to move quickly on multiple projects at once; utilizing solid time and project management skills, combined with the ability to meet deadlines.
Teamwork – We work cooperatively and collaboratively to achieve group goals and objectives.
Professionalism – We use sound judgment and conduct ourselves in a manner that reflects our commitment to excellence.
Leadership – We articulate our vision and goals for ourselves, as well as the company, and help guide others to make our team the best it can be.
If you're looking for a challenging and rewarding career and are passionate about making a difference at Argus, please apply online to start your career!